Venue | Hotels | Transportation | Visas | Medical | Accessibility | Money Exchange | Meals | Packing | Safety
The symposium will take place on November 8-10, 2017 in Rio de Janeiro at the Museum of Tomorrow. The event will begin on the afternoon of November 8th and end on November 10th at 1 p.m. On the afternoon of the 10th, there will be a members meeting for the Network of Centers. 
For a complete guide to navigating and exploring Rio, please see ITS Rio's comprehensive Guide to the City.
MUSEU DO AMANHÃ / Museum of Tomorrow:
Praça Mauá, 1 – Centro, Rio de Janeiro – RJ, 20081-240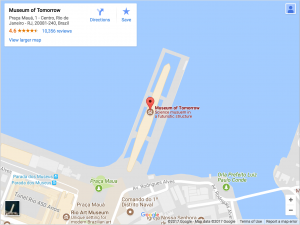 From the Prodigy Hotel to the Museum of Tomorrow:
We highly recommend that to get to and from the museum from the Prodigy Hotel is you use the VLT, an over ground public transportation service. Please note that you must use Brazilian Reals cash in order to buy a transit card for the bus, and that each ticket is only valid for one person. Please make sure you exchange cash and buy a transit card in advance. Take Line 1 (the blue line) from the stop "Santos Dumont" to "Parada dos Museus" (Museum stop), which brings you to the front of the museum. The trip is 7 stops in total and takes approximately 15 minutes. We recommend that you leave 45 minutes in advance of the day's start time to ensure that you arrive at the museum early. To pay for the service, you need to purchase tickets, which can be done at each station.
From the GIG Airport (Riogaleão – Tom Jobim International Airport) to the Prodigy Hotel:

 
If you are coming from the International Airport in Rio de Janeiro (Jobim-Galeão, or GIG), and are going to the Santos Dumont Airport (SDU – the location of the Prodigy Hotel), there are two main options of transit: by taxi or by REAL-bus. The real buses are essentially shuttles that take you to and from each airport — they're safe, air-conditioned, and cheap, at R$16 (about $5 USD). To reiterate, please note that you must use Brazilian Reals cash in order to buy a transit card for the bus, and that each ticket is only valid for one person. Please make sure you exchange cash and buy a transit card in advance. The buses run from 5:30am to midnight each day, every 30 minutes. Catching the bus is easy and includes just standing at a bus stop at the airport and looking for the right bus code (listed here). Please note, however, that the bus transit can be upwards to 1 ½ hours, and is not the safest option if you are traveling at night (past 8:00pm).
If you choose to take a taxi, the best options are the official taxi companies of the airport, which you can catch just outside of baggage claim where you form a line for them to ticket you depending on your destination. Of course, there's the additional option of Uber, though please be aware that you will likely need a working phone number to set up the exact pick up point due to the high number of vehicles at the GIG airport. Please be sure that you do not order a taxi from inside the airport building from the individuals wearing badges, as those services are typically scams that will charge you upwards to double the money. We also recommend that you do not take a taxi without a fixed price. For those of you who already use and are comfortable with Uber, this is likely your best bet as prices are cheaper. For more information on transportation from GIG to SDU, please visit this site. For more information on returning to GIG for your departing flight after the conference, please visit the SDU website and the Real bus website, also linked above.
From the SDU Airport (Aeroporto Santos Dumont) to the Prodigy Hotel: 
SDU airport (Aeroporto Santos Dumont) is the domestic airport, located in the downtown area and at a walking distance (5-minute walk) from the Prodigy Hotel. For those that are staying in other locations, SDU also has regular and special taxi services, for a fixed price. SDU has an Uber pick-up point, near the Prodigy Hotel. Both the international and domestic terminals are well policed. Airport facilities include banks, shops, car rental outlets and an express train into the city. Due to security concerns, it is not recommended to use ATMs at the airport. 
Please note that in order to visit Brazil, most attendees will likely require a Brazilian travel visa. Please look into your country's requirements for entering Brazil for information on if a visa is required and the protocol for obtaining one. A full list of Brazilian requirements by country is listed here. Please ensure to start the visa process no later than one month prior the start of the symposium on November 8th so that you have ample time to obtain your visa. If you need an official visa request letter detailing your invitation and the nature of the symposium, please let us know by emailing inclusionsymposium@eon.law.harvard.edu and we would be more than happy to provide you one.
Before traveling, consult a travel health professional about any medical preparations required, including vaccinations. Please refer to the CDC website for more information on recommended vaccinations; additionally, a yellow fever vaccine is required for anyone coming from or traveling through WHO-designated yellow fever countries.
Please make sure that you have an adequate supply of any regular medications. Work with your health professional to determine if your medications are available in Brazil, and if not, any alternate medications you can take if your medications are lost or stolen. Always carry your medications in your carry-on baggage.
The organizers are committed to ensuring the accessibility of the venues that the Symposium takes place in. Please note that the Museum of Tomorrow is wheelchair accessible; if you have specific accommodations that need to be made to ensure successful participation in the event, please do not hesitate to reach out to us at aiandinclusionsymposium@eon.law.harvard.edu. 
If you are not traveling from within Brazil, you will need to exchange your money for Brazilian Reals upon arrival. There are a few methods of exchanging money, including going to a currency exchange in your home country, a currency exchange in Brazil (called "Cambio"), a large Brazilian bank, or simply withdrawing money from the ATM. If you are able to conveniently exchange money for Brazilian Reais in advance, that is the most straight-forward option. It also advisable to arrive to Brazil with at least a small amount of Brazilian Reals.
The airport in Brazil is likely the second most convenient place to exchange money, and the Prodigy Hotel is just a 5 minute walk from the Santos Dumont airport; however, if possible we recommend that you go to a bank within the airport rather than a currency exchange, as you will likely get worse exchange rates outside of banks. The best place to change money in Rio International airport is with Bank Itau, one of the more prominent Brazilian banks. If you do decide to exchange money at a bank or currency exchange in Brazil, be sure to print as much money from your home country as you would like converted within Brazil, and look for "Cambio" signs within the airport or city. Exchange rates vary by country, so please be sure to check your exchange rate before deciding how much of your local currency you would like to take.
The final option to exchange money is simply by withdrawing money from the ATM in Brazil, which is easy and offers reasonable exchange rates, though typically slightly worse exchange rates than exchanging cash. Please note that bank ATM machines are typically open 6:00 am – 10:00 pm, and that not all ATM machines accept international credit cards. Machines that do accept international credit cards will have the symbol of the international cards it accepts. Recommended banks that typically have ATM machines that accept international credit cards include HSBC, Citibank and Banco do Brasil.
Please note that lunch will be covered each of the three days of the symposium, with snacks to be provided throughout each day. If you are staying at the Prodigy Hotel, there is a hotel restaurant available for all meals, in addition to room service. Though there are not many restaurants located in close proximity to the museum, there are many restaurants accessible by metro from the museum and hotel. If at any point you are in need of a specific recommendation, please email celina@itsrio.org, or see the information desk in person at the symposium.
You will arrive in Rio during the spring, but it will feel like summer already due to the high temperatures in this region during November, which averages around 35°C/ 95ºF. We recommend that you bring summer clothes, in addition to light jackets as scattered rain showers are common this time of year, and some places can get extremely cold due to the air conditioning.
Important items to Pack:
Sunscreen

Swimsuit

Insect repellent

Copy of Passport
Converters and adaptors for electronics: standard voltage is 127/220 V. The standard frequency is 60 Hz. The power sockets that are used are type N, although some venues also take US plugs.
Most visits to Rio are trouble-free; however, crime is always a possibility and it is imperative to be vigilant in protecting yourself and your belongings. The most common incidents affecting tourists include pick-pocketing and theft around popular tourist areas. In order to promote your own safety, please avoid wearing or carrying around valuables including jewelry, avoid wandering around the premises of the museum or other tourist destinations late at night, keep laptops inside bags, and carry around a limited amount of cash at all times. For more information on safety, please see the U.S. Brazilian Embassy's messages and advice on traveling to Brazil, in addition to SafeAround's safety index on Rio and tips for traveling there. Below is a list of important tips to ensuring you have a safe trip in Rio:
Avoid:
Walking with cameras hanging on your neck

Wearing valuable accessories if you decide to take a walk or go to the beach (including mobile phones, cameras, wallet, passport, credit cards, jewelry, etc)

Picking up your mobile phone on the streets (including making a call or checking Google Maps). For example, we suggest using a map, or browsing and answering your phone inside a store

Taking a lot of cash or your passport if you're going out (you should make a copy of the biographic page of your passport and carry this with you)

Walking by yourself at night, especially if you're in a deserted area

Taking public transportation after 9:00pm

Leaving belongings unattended

The slum areas (favelas), even though there are some respected favela tours for tourists (important to note that these operators must pay a percentage of their profits to the criminal gangs controlling the favela to ensure the safety of the tour party)

Be aware when:
Crossing the streets: make sure that the green light is turned on to the side-walkers

Keeping your belongings in your pockets (wallets, mobile phones, cash, copy of passport, etc.)

Taking taxis on the streets — it's better to call an Uber or a taxi service

Renting beach chairs and umbrellas at the beach: beach chairs usually cost R$4,00 and umbrellas R$7,00

Leaving a restaurant, night club, hotel, etc. at night


Getting money from an automatic machine: beware of suspicious characters lurking

near by. It is best to use the machines located inside banks, buildings and shopping centers


Visiting downtown at night: the city

centre

should be visited during work hours even though some parts of it have been renovated



Social Night for Symposium Attendees
All officially registered symposium attendees for the full working portion are invited to join us at the Rio Scenarium for drinks and Samba dancing. Two complimentary drinks will be provided to all participants, and the list of participants at the venue for the venue employees to check ID's (please remember to bring your ID or a copy of your ID). Once you are checked in, you will receive a card that secures your 2 complimentary drinks.
Transportation from the museum to the party: 10 minutes via car, 20 minutes via VLT Transportation from the Party to the Prodigy Hotel: 10 minutes via car, 25 minutes via VLT